Next up for our guest interviews is Gabriella Ganugi, "the girl who counted ants" and President of FUA-AUF, an institution of higher learning that welcomes thousands of students from over 40 countries worldwide to its campus network of 7 locations in the historic center of Florence. FUA-AUF is one of the most successful international institutions in Florence, and for this reason I believe it is important to interview its President (and founder) and allow everyone to discover its leading educational model rooted in the heart of our city.
See below for the full interview and happy reading!

1. When did the FUA-AUF journey begin?
I've been in international education for 35 years. I worked as a resident director for an American college in the 80s. In the 90s I worked for a language school that I transformed into a college in just 12 years. In 1997 I founded Apicius International School of Hospitality, the first academic institution of hospitality at the higher education level in Italy. We offered 1, 2, and 3-year programs with few study abroad programs. In 2004 I founded FUA-AUF for reasons related to curriculum expansion and a few years later Apicius and FUA were merged into a single institution. FUA-AUF currently has 9 schools (academic divisions) including hospitality.
2. MISSION: Enriching students through Cultural Integration, Community Engagement, and Experiential Learning. Can you tell us more about the FUA-AUF mission statement?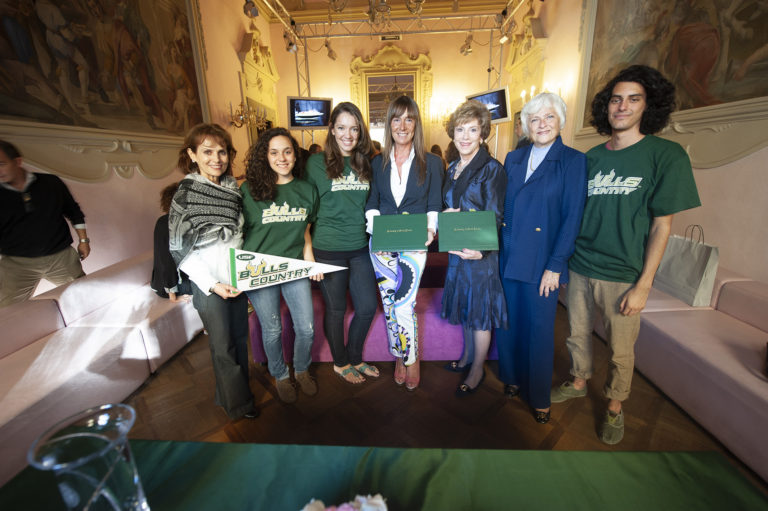 Integration with the local culture and the engagement of international students within the community are at the core of our mission. We created and elaborated an experiential learning model based on non-profit entities: our CEMI, Community Engagement Member Institutions, which act as FUA-AUF's windows to the city, a series of creative learning labs that are open to the public.
We have a restaurant, pastry shop, spa, guest apartments, campus press, two visual arts galleries, and a startup lab for young entrepreneurs. They are all non-profit and gathered under the Palazzi Foundation. Through our model, students rapidly acquire knowledge and competencies without the traditional barrier between classroom and professional experience, and the results are excellent. Our method is also effective for students with learning disabilities, and the overall learning outcomes are superior compared to traditional methodologies.

3. What were the numbers at FUA-AUF prior to Covid-19? Partner universities, students, programs?
We are affiliated with over 140 universities worldwide, and host approximately 4000 students per academic year from over 40 countries.
4. Why is Florence such an attractive study abroad destination?
Because it's iconic and seen throughout the world as being representative of Italy, art, and lifestyle. At the same time Florence is small, safe, and friendly.
5. Does graduating from FUA-AUF signify obtaining a recognized degree?
Yes, our dual degree program in collaboration with a US partner university grants an accredited degree. Furthermore, all FUA-AUF courses (over 500 in the academic catalog) grant US credits. On the other hand, recognition is also a mere accessory. The reputation and distinction speak for themselves. It's not my intention to compare with such a prestigious institution but it is worth mentioning Oxford, a world-renowned university that isn't accredited.
6. What have been the greatest difficulties you've encountered as an entrepreneur?

Being a woman definitely didn't help, especially at the beginning. When I requested bank loans for investments, I was always asked if I had a "father or husband who could guarantee" for me.
The other difficulty is operating in Italy and Florence. Those who are successful are rarely appreciated in Italy. We're invisible, with no support from the city, region, or country. We bring 4,000 students to the city each year and provide countless jobs. Our students generate collateral benefits for the entire city. I'm not referring to financial support, I've never utilized public funds my entire life. What I mean is visibility, recognition, opinions, and collaborations. We've received many prestigious awards as an academic institution. I've personally received awards in locations abroad for my endeavors in international education. And yet my own city has yet to invite me to seminars on study abroad, which seems to have just been discovered in Florence when in reality it's been around for 50 years.


7. Let's get into the specifics. Being a woman therefore was an impact in certain ways?
Absolutely. Being a woman is never an advantage, at least it wasn't when I was starting out and certainly not today. A woman has to constantly justify her successes. Apologize for her intelligence. I've collected so many anecdotes that I've thought about publishing them in a book.
8. What have been and what continue to be your favorite aspects of your work?
All of them, we always learn from other cultures. I love students and seeing how they arrive disoriented and depart with confidence at the end of their studies. Our work isn't just a job, it's a mission. We're changing people's lives, it's a huge yet gratifying responsibility.
9. How did you handle the Covid-19 emergency and student departures?
We supported students around the clock and helped them with booking their flights, with their documents. We worked day and night for two weeks straight in order minimize the trauma of their return home. We assisted, and continue to assist, students through our certified counselor for mental health and through a direct line of support for every possible form of need whether it be academic or logistical.
10. Did you continue the courses in session for students by offering them online? Were you able to successfully conclude all programs?
Our MyFUA platform was developed in 2013. Since then we have used MyFUA for student communication and course interaction for all classes even if they meet in person. We're 100% paperless, we don't print anything but solely use the virtual platform. It was thus an easy transition to remote delivery for us since the system already existed. Courses of all categories, theory and practice-based, were completed through MyFUA. Students didn't suffer a single academic loss.
11. Have you given thought to reorganizing campus facilities for social distancing measures and sanitation procedures?
Yes, we've already written a lengthy protocol that's been well-received by our partners. As always, our velocity and anticipated timing of providing information is key.
12. Tell us about the role of digital technology in your communication. Do you follow an editorial plan for updating social media (both in emergency and non-emergency mode)?
Yes, we're maintaining our communication plan and procedures through our school of journalism and our campus press (a CEMI). No changes here.
13. Are you receiving enrollment inquiries for the following months? When do you think
courses will recommence?
Lately we've been receiving more info and enrollments requests than usual, and we've noticed that the inquiries are for certain areas and program categories. We will reopen in September with our Certificate Career, Associate, and BA/BLS degree programs. If there aren't any contrasting orders from the government that impede reopening, that is.
14. What's the next dream in the lineup?
That my project can be applied to as many institutions possible beyond FUA-AUF and benefit students worldwide. Experiential learning is the key to the future. And that my own city and country will take notice of what we are doing. Being invisible is frustrating. One can ultimately tire of it, and seek appreciation elsewhere.
Stay tuned during this Phase 2 and join the community of Turismo Digitale to deepen your knowledge of web marketing in the hospitality industry for non-hotel lodging. Attend the next free webinars live on Facebook together with Marco de la Pierre, Paolo Ramponi, Alessandra Andreani, Marco Boni, Marco Nicosia and Luca Parri!
Photo credits: David Andre' Weiss
by Alessandra Andreani
Leggi le altre interviste
Due chiacchiere con Alberto Galante (Property Manager)
Due chiacchiere con Elena Nacci (Property Manager)
Due chiacchiere con

Alberto Lombardi (Bike Tour Leader)

Due chiacchiere con

Claudia Moritz (Wedding Planner)

Due chiacchiere con

Elva Conti (Guida Turistica)

Due chiacchiere con

Gloria Mottini (Experience Host) 

Due chiacchiere con Federica Ianniciello (Imprenditrice Agricola)
Due chiacchiere con Stefano e Milly (Superhost e founders di guestamore)
Due chiacchiere con Laura Rontani (Bed & Breakfast e Art Yoga Retreat) 
About Gabriella Ganugi
FUA-AUF, Profilo Instagram, Profilo Facebook
---
Alessandra Andreani
Linkedin: Alessandra Andreani
Alessandra on Airbnb: la Sartoria di Anna e Gianni 
E-mail: a.andreani@dotflorence.com
Mob: +39 347 1621591